Satsning på digitala tvillingar ska revolutionera stadsutvecklingen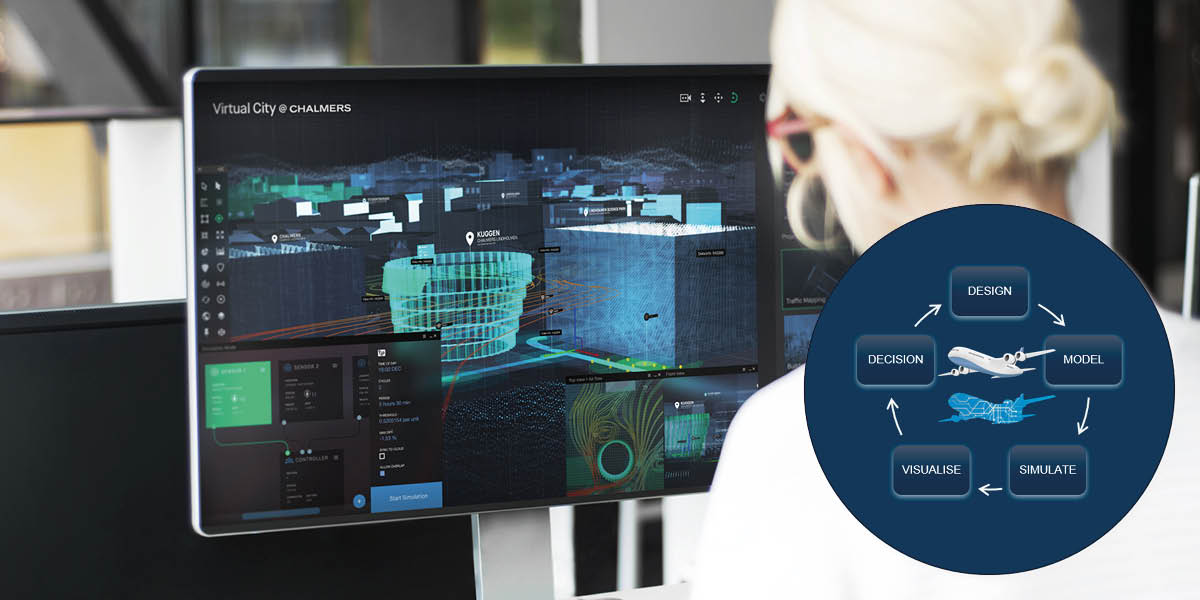 Bild: Visualisering av Lindholmen, Virtual City@Chalmers
Med dagens teknik att skapa digitala tvillingar kan en bil eller ett flygplan modelleras, och dess egenskaper simuleras och optimeras innan det ens lämnat ritbordet. Något som inom en nära framtid ska kunna bli verklighet för något så komplext som en hel stad. Vinnova satsar stort och långsiktigt på ett Chalmersbaserat kompetenscentrum som ska leda utvecklingen.
Städer är de största och mest komplexa system som människan skapar, och även de mest resurskrävande och avfallsproducerande. Andelen av jordens befolkning som bor i städer ökar dessutom för varje år, vilket innebär att behovet av omställning till hållbar utformning av våra städer också ökar. Integrationen av digitala metoder kan vara ett starkt stöd i denna utmaning. Likt processen med att bygga ett flygplan eller en bil, vars formgivning baseras på matematisk modellering, simulering och optimering, kan också städer utformas för att bli mer levande, effektiva och motståndskraftiga om de analyseras och testas innan de faktiskt byggs. I och med en nyligen beslutad satsning från Vinnova kommer totalt 100 miljoner kronor att investeras för att skapa helt nya möjligheter för virtuell stadsplanering och analys.
– Vi är oerhört glada och stolta över detta fantastiska besked från Vinnova. Bakom vår ansökan ligger mycket hårt och långsiktigt arbete från ett engagerat team på Chalmers i nära samverkan med våra partner, säger Anders Logg, professor vid institutionen för matematiska vetenskaper och blivande centrumföreståndare.
Digitala tvillingar är ett begrepp som revolutionerat tillverkningsindustrin och som dagligen används för att konstruera allt mer förädlade produkter. Tekniken har också spridit sig till planeringen och utvecklingen av våra städer, men är där vanligtvis begränsad till visuell representation. Centrumet Digital Twin Cities kommer att utveckla konceptet digitala tvillingar för städer och lyfta det bortom ren visualisering – genom att modellera och simulera staden som ett komplext multifysiksystem baserat på realtidsdata.
– Digital Twin är visserligen ett väletablerat begrepp, men det som är unikt med vårt koncept är att det syftar till att integrera det som finns under marken och därmed hantera staden som ett komplext fyrdimensionellt system i våra simuleringar, säger Minna Karstunen, professor vid institutionen för arkitektur och samhällsbyggnadsteknik och den andra av centrumets två föreståndare.
Det var just den unika karaktären som Vinnova tog fasta på i sin bedömning. I motiveringen till att satsa på Digital Twin Cities uttrycker Vinnova: "The novel approach in an otherwise well addressed field was deemed impressive by the evaluators, combining open source, smart city developments and public sector linkages, convincing the evaluators of the potential of the application."
– Vi har nu har möjlighet att fullfölja och skala upp vårt pilotprojekt VirtualCity@Chalmers som kommer att utgöra en viktig byggsten för utvecklingen av vårt centrum. Samtidigt kommer vi nu att på ett helt nytt sätt kunna utnyttja den starka kompetens som finns på Chalmers inom modellering, simulering och visualisering av städer, genom att kombinera vår kompetens inom arkitektur, teknik, matematik och datavetenskap, med erfarenhet och aktuella utmaningar från våra partner, fortsätter Anders Logg.
Ett starkt konsortium bestående av 28 svenska och internationella partners med basen på Chalmers ska samverka inom Digital Twin Cities. Spetsforskning kommer att bedrivas inom åtta olika forskningsområden som täcker in alla de aspekter som krävs för att utveckla digitala tvillingar i stor skala, och utnyttja de möjligheter detta ger för arkitektur, stadsbyggnad och byggande med digitalt stöd. Ett särskilt fokus ligger på kunskapsöverföringen till näringsliv och offentliga aktörer, i syfte att stärka Sveriges roll i digitaliseringen och utvecklingen av samhällsbyggnadssektorn.
Forskningsområdena som kommer att involvera forskare från en mängd olika forskningsområden samt branschföreträdare och organisationer från hela samhällsbyggnadssektorn, är:
Digital Twin Platform
Urban Planning and Design
Architectural and Structural Design
Digital Construction
Modelling & Simulation at the District Level
Modelling & Simulation at the City Level
Visualisation & Auralisation
Data Management & Integration
Chalmers Industriteknik ska hantera aktiviteter relaterade till utnyttjande av resultat genom att stödja utveckling av applikationer och användningsfall och säkerställa överföring av dessa till samhällsfördelar. Viktiga områden i detta sammanhang är inventering och hantering av immateriella rättigheter som uppstår genom arbetet såväl som affärsmodeller för utnyttjande och kontinuerlig utveckling av slutanvändarapplikationer och resultat från centrum. CITs extraordinära erfarenhet inom dessa områden är att samordna kompetenscenter och relaterade innovations- och användningsaktiviteter och strategier.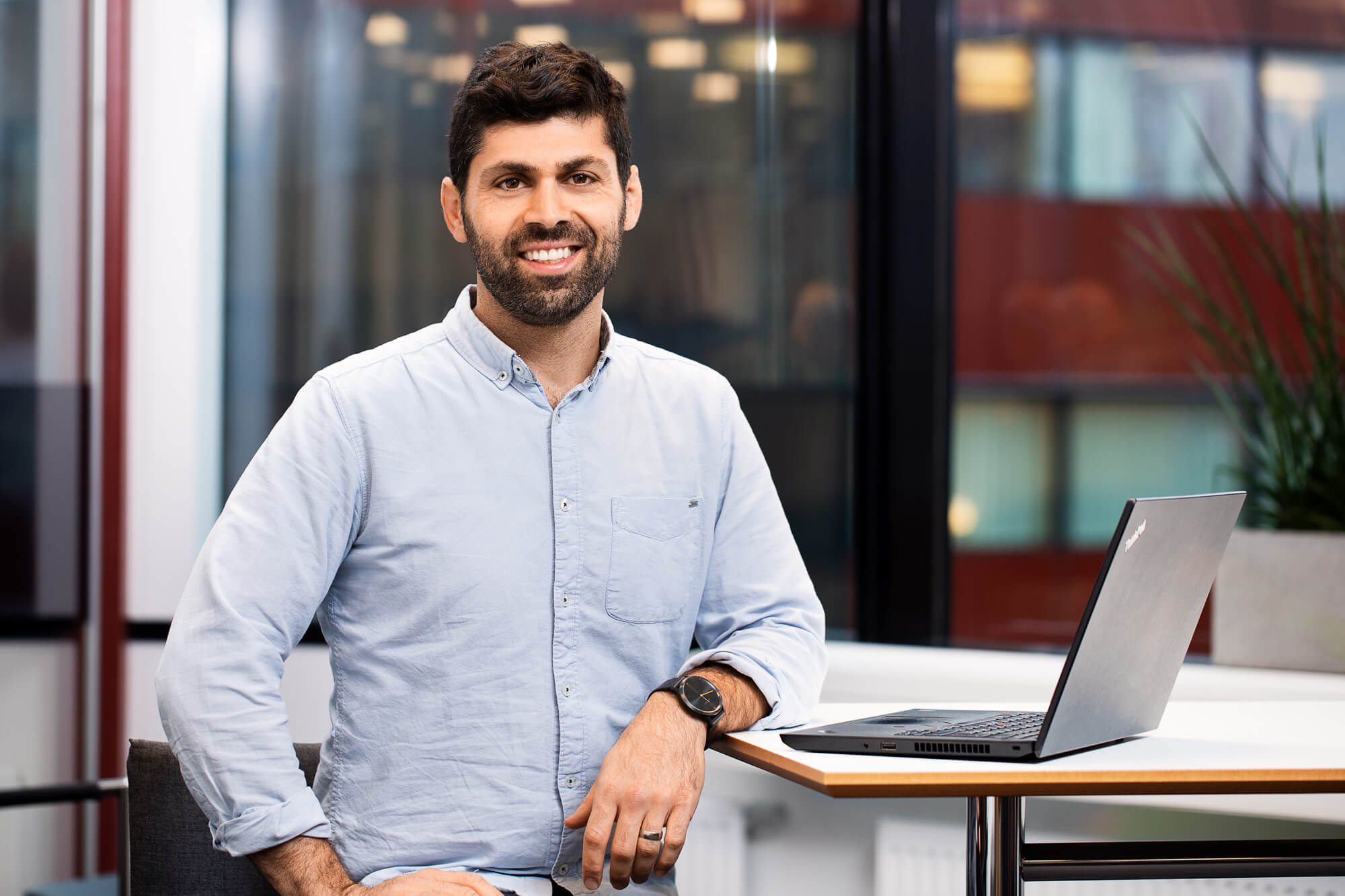 Släck kunskapstörsten med spännande läsning
Var bland de första att få reda på ny forskning inom områdena Cirkulär ekonomi, Tillämpad AI, Innovationsledning, Energi och Material. I vårt nyhetsbrev delar vi med oss av innovativa tekniker och projekt som gör märkbar skillnad för samhället. Du får också tips och inbjudningar till intressanta seminarier och event inom vårt område.