Constructivate: Så sluter vi loopen för emballageplast från byggprodukter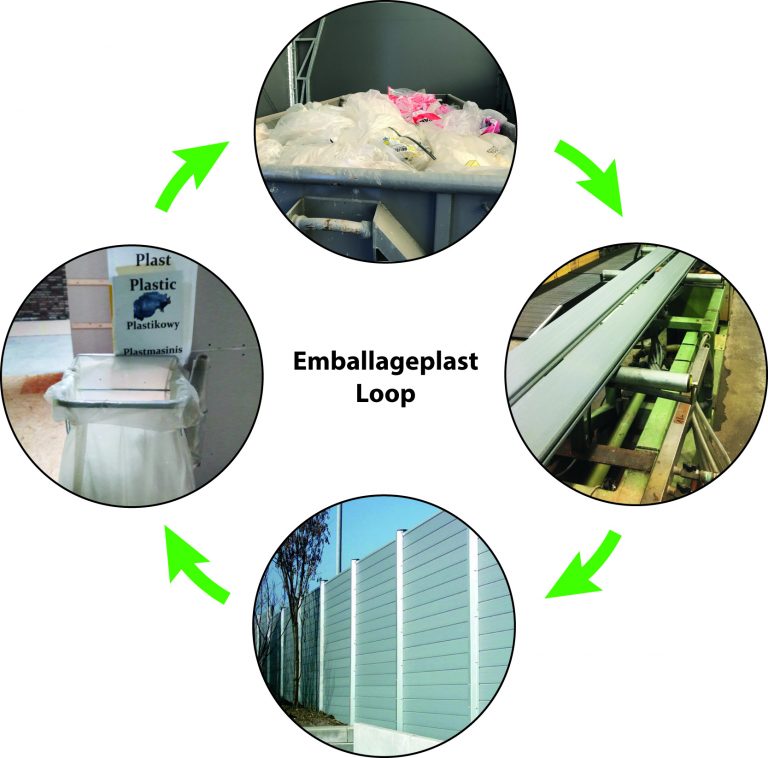 Visst går det att förlänga livet för emballageplast från byggprodukter!
PolyPlank har i dagarna tillverkat en kompositprofil till bullerplank baserad på bland annat återvunnen plastfilm i polyeten. Ragn-Sells har samlat in denna LDPE-plastfilm från olika byggprojekt som NCC har runt om i Göteborg.
Forskningsprojektet Constructivate, lett av Max Björkman på Chalmers Industriteknik, syftar till att öka materialåtervinningen av bygg- och rivningsavfall. Ett avfall som har identifierats som extra utmanande är plast ─ och trots att byggindustrin är en av de sektorer som använder mest plast ─ är det just där som materialåtervinningen är som allra lägst.
All plast lämpar sig inte för återvinning, men att energiåtervinna plast som kan materialåtervinnas resulterar i onödiga CO2-utsläpp och stora värdeförluster. Emballageplast, som exempelvis LDPE-film, kan nästan betraktas som installationsspill och är relativt enkelt att sortera och materialåtervinna. Så varför sorteras då inte emballageplasten ut redan från början, istället för att samlas in tillsammans med fraktionerna brännbart eller blandat för eftersortering?
Som i alla försörjningskedjor är det priset på slutprodukten som till stor del styr villkoren för aktiviteter tidigare i värdekedjan, i detta fall den återvunna plastråvaran. En fråga som ofta kommer upp är hur man ska få ekvationen att gå ihop, eftersom det är dyrt att sortera, samla in och återvinna plastprodukter, samtidigt som det är svårt att få tillräckligt betalt för den sekundära råvaran.
Constructivate har gjort olika punktinsatser för att komma närmare en lösning på detta dilemma. På två av NCCs arbetsplatser för nybyggnation har LDPE-film samlats in genom ett säckställssystem där byggprodukter har avemballerats, komprimerats för hand och sedan lagts i säckar. Lösningen har visat sig vara effektiv och skapar inte heller något merarbete på byggarbetsplatsen, samtidigt som mängden material i fraktionerna brännbart och blandat för eftersortering minskar, vilket betyder kostnadsbesparingar.
— NCC har en långsiktig hållbarhetsmålsättning att sluta materialflödena, säger Pernilla Löfås, hållbarhetsstrateg på NCC Building Sverige. Vi har höga ambitioner i att sortera vårt avfall, men det är trots allt många rena fraktioner som inte materialåtervinns. Tillsammans med våra avfallsentreprenörer och leverantörer försöker vi göra det möjligt att öka materialåtervinningen och detta är ett fint exempel på när detta lyckas, säger Pernilla.
I ett testförsök har Ragn-Sells samlat in bland annat LDPE-film som sedan skickats till Rodepa Plastics B.V. i Holland för att granuleras. Den granulerade plasten har sedan skickats till PolyPlanks produktionsanläggning på Öland. Där har vi fått fram ytterligare ett intressant resultat – nämligen att råvaran från LDPE-filmen med stor framgång har kunnat användas vid produktion av plankprofiler i komposit.
— Vi fick ett otroligt fint resultat av testet och nu kan vi visa att det verkligen går att göra högvärdiga produkter av denna råvara som idag till stor del förbränns. Vi hoppas att detta ska kunna motivera svenska aktörer att samla in och förädla emballageplast här i Sverige så att vi kan tillverka produkter till byggbranschen med hjälp av avfall från samma sektor, säger Annika Fernlund, styrelseordförande i PolyPlank AB.
Att utreda vidare är hur man kan sänka transportkostnaderna. En utmaning just nu är att den insamlade LDPE-filmen måste transporteras lång väg för att kunna förädlas vidare. En annan aspekt som är intressant att titta vidare på är ifall det går att minska användningen av emballageplast från allra första början eller åtminstone se till att emballageplast designas för att enkelt kunna återvinnas. Detta och mycket annat kommer undersöka närmare i forskningsprojektet CirEm som startar under april månad 2019.
LDPE-film
LDPE står för polyeten med låg densitet. En film är en plastbit som är mycket längre och bredare än dess tjocklek. LDPE-film används ofta för att förpacka olika produkter, bland annat byggprodukter.
Information om Constructivate och CirEM
Constructivate – Sustainable reycling of construction and demoliation waste är ett fyraårigt forskningsprojekt, finansierat av Mistra inom programmet Closing the Loop. Projektledare är Chalmers Industriteknik och projektpartners är Chalmers, IVL, RISE, Stena Reycling, Renova, Rivab, NCC Industry/Reycling, Peab, White, Chalmersfastigheter, Tarkett, Cementa, IKEM och Miljöförvaltningen i Göteborgs stad.

CirEm – Ett cirkulärt system för emballgeplast från byggindustrin är ett sex månader långt forskningsprojekt, finansierat av RE:Source med syfte att skapa förutsättningar för att utveckla ett cirkulärt system för emballageplast från byggindustrin. Projektledare är Chalmers Industriteknik och projektpartners är Axjo Plastic, Beijer Byggmaterial, JM, NCC, Optimera, Peab, PolyPlank, Renova, RISE, Skanska, Stena Recycling, T-emballage, Trioplast, XL-bygg, FTI och Sveriges Byggindustrier.
För mer information, kontakta
Max Björkman, Chalmers Industriteknik, 0703-781671,
max.bjorkman@chalmersindustriteknik.se
Annika Boss, RISE, 031-7066373, annika.boss@ri.se
Pernilla Löfås, NCC, 0705-318891, pernilla.lofas@ncc.se
Annika Fernlund, PolyPlank AB, 0739-299896, Annika@polyplank.se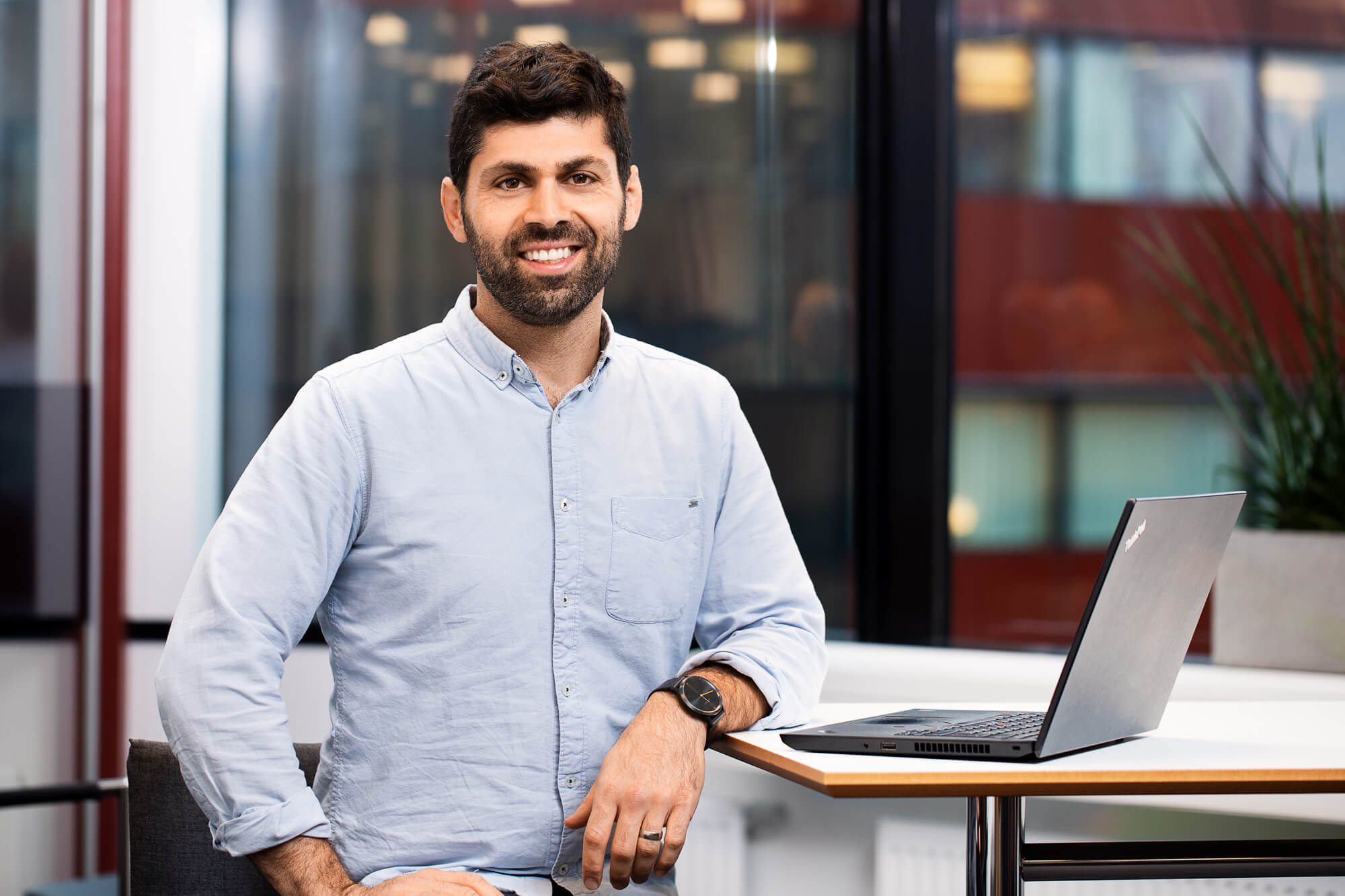 Släck kunskapstörsten med spännande läsning
Var bland de första att få reda på ny forskning inom områdena Cirkulär ekonomi, Tillämpad AI, Innovationsledning, Energi och Material. I vårt nyhetsbrev delar vi med oss av innovativa tekniker och projekt som gör märkbar skillnad för samhället. Du får också tips och inbjudningar till intressanta seminarier och event inom vårt område.